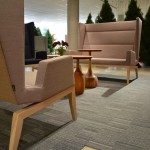 Worldwide launch at Orgatec and Equip'Hotel: Billiani with a new system of upholstered seating furniture.
INKA: a premier designed by Roberto Romanello.
Billiani widens its product range and launches INKA, a diverse system of upholstered seating furniture of a distinct style. INKA is the result of the encounter between Billiani, a company of expertise in artisanship and technology and with a catalogue of high quality products, with the broad experience in the design and development of top notch contract furniture of architect Roberto Romanello. The worldwide launch of INKA will move the focal point of the Billiani catalogue towards versatile solutions for the contract segment on a 360 degree scale. La collezione INKA è stata presentata all'evento Sydney InDesign. Anche i colori tenui si sposano con i tagli definiti che caratterizzano il sistema.